Attractions & Plant Directory
Click the map for a zoomable image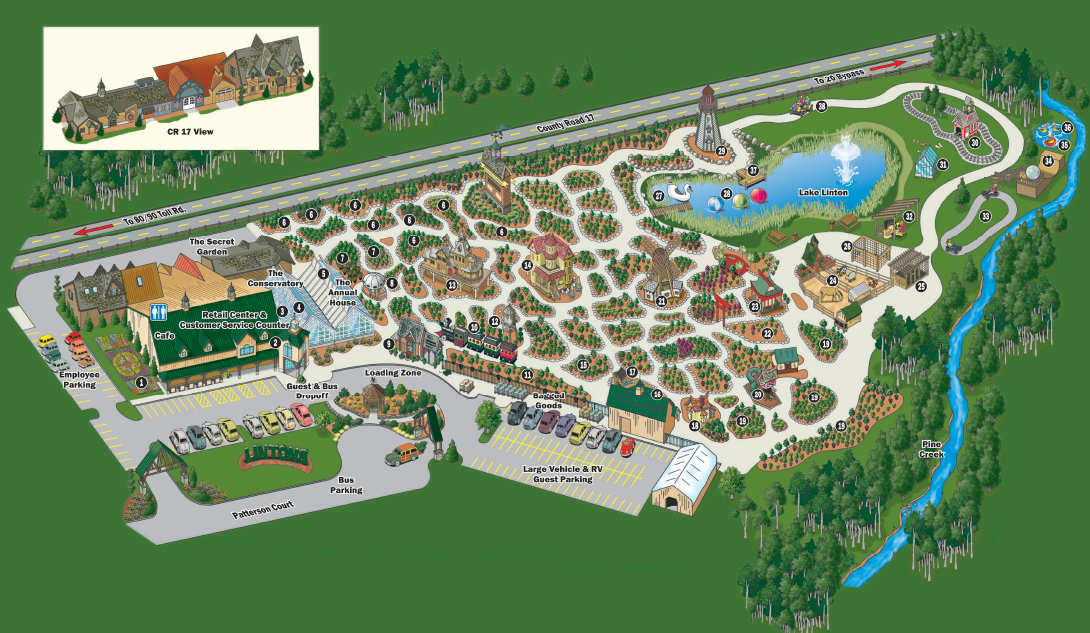 *Requires ticket purchase from Customer Service Counter
Attractions
The Quilt Garden

One of the many gorgeous Quilt Gardens on Elkhart's Heritage Trail. Our Quilt Garden is located on the north side of our store and features 6 huge garden plots of glorious color from May to October! There is no cost to enjoy our Quilt Garden!

The Visitor's Centre
The Linton's Enchanted Gardens Television Filming Set
Our Resident Macaws
The Shooting Gallery

Try your luck at shooting the Empty cans, Bull Frog, Roosting chicken, or any of the other Varmints in the Shooting Gallery.
1 game =$2.00
3 games= $5.00

The Enchanted Gardens Express Train *

A fun, relaxing narrated tour of our 9 acre Garden Centre aboard Linton's Enchanted Express Train. We'll traverse past our display beds, through our plant nursery, around our pond, Past the petting Zoo and through the train tunnel before pulling up to the Train depot.
All for $3.99 a person. 10-15 minute ride.

The Gem Stone Mining *

Purchase your gem bag at the customer service counter, 4 different varieties to choose from starting at $5.99 a bag up to $19.99. Then you and your family can 'pan' for your jewels at the mine.

The Kid's Corner Play Area

Bring the kids and let them explore the tree house. They can climb up inside the tree, then back down on the spiral slide, or swing from the extended branch! The tree house also has a talk tube and look out window.
Absolutely Free.

The Petting Zoo

Visiting our animal friends is FREE! Feeding them only cost .50 cents! Sit in the shade and relax while watching our 4 legged friends. Our Petting Zoo is located in the southwest area of our Garden Center. Larger bags of food and snack packs available at the customer service counter.

The Aviary
The Emu House
The Swan Paddle Boats *

$3.99 a person will get you a relaxing tour around Lake Linton aboard the Swan peddle boat. Watch the resident Koi follow you around the pond. Fits up to a family of 5!
$3.99 a person for a 5 minute ride for kids & adults.

The Water Orbs *

An experience like nothing else. For $3.99 you'll enter our inflatable water Orb, and have the time of your life walking on water!!! Get ready to laugh. 5 minute experience

The Peddle Car Fire House *
Navigate around the train track with our unique hand peddle cars. See how many times you can make it around in 5 minutes! Race against your friends or family! Peddle Train cars are for both kids and adults.
$3.99 ea.
The Parakeet Encounter *
You'll take the Enchanted Express Train to the Parakeet Encounter where you will feed the parakeets. (Available June - August)
$4.99 per person. (Includes train ride, seed stick and Encounter visit)
The Mini Excavator *
We supply the machinery, you supply the fun! Our mini excavator lets you move soil from one area to the other, using a mini version of the real thing! So much fun for
only $3.99. 5 minute experience. For kids of all ages!
The Peddle Go-Karts *
Weave in and around the trees while racing around the track with the foot powered peddle cars.
5 minute ride, $3.99 each.
The Zorb *
Climb in the center of our cushioned zorb ball and experience the rush of careening head over heels up and down our thrilling ramps!
$3.99 fo a 5 minute experience.
The Bumper Boats *
Just like the car except on water! Have tons of fun bumping into your friends on the Bumper Boats.
$3.99 ea. 5 minute ride. (165 lb. Weight limit)
The Aqua Paddle Boats *
Have tons of fun on a hot summer day paddling around the wading pool in our paddle boats! The 5 minute experience is more than enough time to explore the whole pond! Adult & kiddie boats available. (250 lb. Weight limit)
$3.99 ea.
Japanese Koi Feeding Station
This activity brings fun and giggles to all who do it! For only only .50 cents you can enjoy feeding hundreds of our exotic friends clamoring for your undivided attention. The fish feeding station is located near our Lighthouse.
The Quad Cycle*
Seats up to 4 people. Take an enjoyable bike tour of our gorgeous Garden Centre, peddle around Lake Linton. Travel past the Petting zoo, then zoom through the train tunnel. One lap.
4 riders only $3.99
Plant Directory
Evergreens for Sun & Part Shade
Bird Baths, Garden Decor and Fountains
The Space Ship (UFO- Unusual Flowering Objects)
The Train Depot (Garden Centre Customer Assistance)
Shade and Ornamental Trees
The Water Tower (Perennials for Sun)
The Grist Mill (Perennials for Sun)
The Victorian House (Perennials for Sun)
Fruit Trees
The "Lost Our Mind" Mine (Southwestern Plants)
The Pixie House & Fairy Garden (Dwarf Miniature Plants)
Plants for Shade
The Windmill (Shrubs for Sun)
Vines for Sun
The Japanese Tea House (Japanese Maples & Oriental Plants)
The Light House (Ornamental Grasses)