Landscape Architecture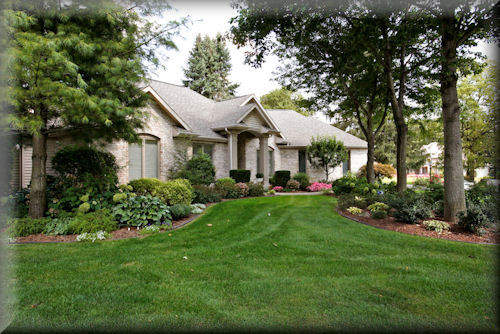 Our landscape designers are trained to custom design plans to fit our customers lifestyles, personalities and budgets.
Designers at Linton's specialize in color gardens, butterfly gardens and everlasting perennial gardens. They also are trained to install custom ponds, waterfalls and bridges, as well as gazebos.
The landscaping design division of Linton's employs special crews that install retaining wall systems, landscape lighting and paving bricks for patios, driveways and walkways.
We install lawns by hydroseeding, dry seeding or by installing sod.
Custom design service
Two-year guaran-TREE
Commercial and residential design and installation
Designs to fit your lifestyle and to reflect your personality
Do-it-yourself program
Butterfly gardens
Everlasting perennial gardens
Custom ponds
Unique waterfalls
Custom bridges
Deck design and construction
Gazebos
Timber planters
Sod installation
Hydroseed and dry seed lawn installations
Landscape lighting
Timber & block retaining systems
Boulder retaining walls
Paving brick installations for patios, driveways, and walkways
Landscape plantings to attract birds and wildlife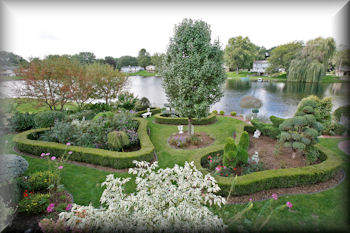 Linton's primary service is that of meeting our customers' landscape needs. From concept to completion, 60+ professionals will monitor every step of your landscape project, ensuring total satisfaction. We have an excellent team of degreed horticulturists, and experienced crew persons. Each one is trained to be your partner and will work with you, to build and maintain unique and distinctive landscapes.
We also offer our customers:
Clean, well-marked trucks and equipment
The flexibility and experience to tackle a variety of project types and sizes.
Professional, well-trained, uniformed employees.
Corporate stability and a reputation for efficient, high quality service
Ponds and Waterfalls
Nothing is more relaxing than the sites and sounds of falling water! The jewel of many outdoor living spaces has become the backyard pond and waterfall. Both relaxing and beautiful, ponds offer a fascination for the entire family.  Linton's ponds are designed to replicate nature, and feature blooming aquatic plants, fish, snails and frogs, which all help create a balanced eco-system that brings with it lots of birds and butterflies! Linton's even guarantees "no mosquitoes"!
Both young and old are amazed how the tranquility of a pond and the relaxing sound of the babbling streams and waterfalls seem to melt away the stresses of the day! According to Mark Linton, "there is absolutely nothing difficult to maintaining a backyard pond". These water features are like magnets, that will attract your guests up to the waters' edge, and will bring enjoyment to your friends and family for many years to come! Linton's can install the water garden of your dreams - any style, size or configuration. And for those up to the challenge of a do-it-yourself project, the knowledgeable staff at Linton's Enchanted Gardens have all of the supplies, along with free expert advice, and will be happy to coach you along throughout the installation process.