Women's Fashion & Accessories
Inside our shoppe we feature an eclectic selection of unique gifts, along with everything imaginable to beautify the inside of your home. From hand crafted jewellery, women's fashion and accessories, as well as the area's largest selection of Vera Bradley. Each item is lovingly selected to be a part of our collection with nature and family as our inspiration!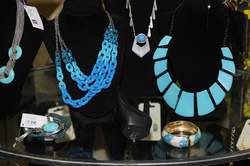 You no longer have to travel to Chicago or New York City to find the latest in high quality women's fashions and accessories. Linton's Boutique, right here in Elkhart, features fashions from Italian designers, as well as US designers. Our boutique is staffed with experienced image consultants which offer their expertise in selecting the outfit that is right for you!  We offer a wide array of designer styles from which to select from. Our image consultants will make sure that you will look your best, whether it's finding the perfect outfit for you next special occasion or an outfit for relaxed everyday wear. Our Boutique buyers travel to the National Apparel markets searching for the latest in women's fashions at prices that you can afford!

Linton' Boutique specializes in affordable jewellery and accessories that look much more expensive than what they really are! Want the look of diamonds, but NOT the price? We have a large selection of CZ jewellery that no one won't know that they really aren't diamonds, and we're not telling! We have the largest selection of Vera Bradley handbags in our area, and if you don't see what you are looking for, we can special order it at no additional charge.Our fashion and accessory offerings are constantly changing as we receive new shipments in daily, so stop in to see what's new!